Last week, especially the weekend,
was a hard one for our little princess.
Since Kali was about two weeks old,
she has been experiencing Acid Reflux.
She throws up constantly.
It worried me for a while that she wasn't gaining weight.
Especially because she would eat,
throw up,
and then act starving again.
She was literally eating every half hour.
As the week went on,
if she was awake,
she was crying.
I hardly got anything done all week
and began to wonder if there was something else wrong with her.
Then,
Thursday night,
she was up every half hour and super fussy.
At about 8 am,
I gave up trying to get anymore sleep and got up.
I fed her and she seemed okay after that.
She was still a little bit fussy, but nothing worse than she'd been all week.
So,
I set her in her bouncer and started doing some Zumba.
She usually loves watching me do that. I am pretty sure it's because I look like a complete moron and she enjoys laughing at me.
This time however,
was different.
She was fussing,
and about 10 minutes into it,
the crying became louder and louder until she was screaming uncontrollably.
It was the saddest cry ever.
I gave up working out and picked her up to try to make her feel better.
It didn't help.
It didn't matter what I did.
I rocked her, bounced her, cuddled her, burped her,
NOTHING.
She was so so upset.
I started to worry a little and after two hours of this,
I called the Dr.
When they heard her crying they told me I needed to come in.
Okay,
I have been to the Doctor so much for her lately and they keep saying that it's just her acid reflux.
So I waste the $20 every visit to just hear them say there is nothing we can do.
But with the way she was crying,
I was really worried that something else was wrong.
Seriously. She went from this adorableness....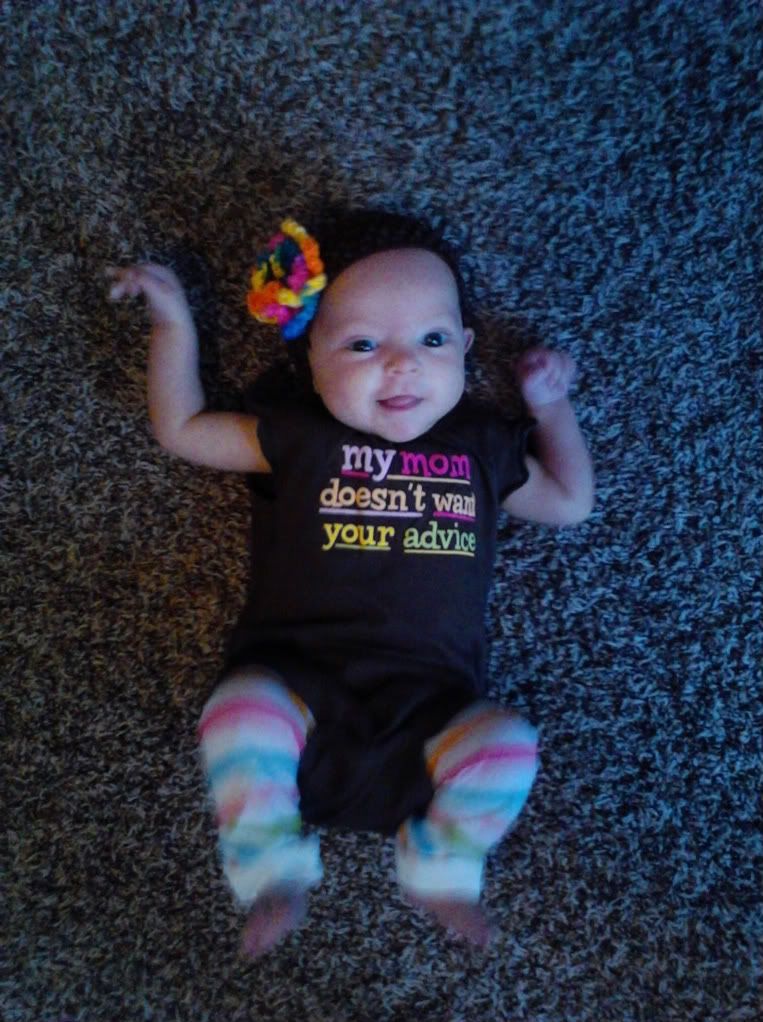 To uncontrollable crying.
So I packed her in her carseat and went to the Dr.
By the time we got there, she had fallen asleep.
I'm sure from pure exhaustion.
When we got in to the room,
they wanted to weigh her so of course I had to wake her up for that.
Within 30 seconds of waking up,
she was screaming her head off again.
I was pleasantly suprised to find out that she was now 9 pounds 11 ounces.
She has gained almost a pound in less than a month.
That made me feel better about her at least keeping some of her food down.
But it didn't change the fact that she was still obviously in a lot of pain.
After being there for a couple of minutes,
the Dr. Said that it sounded like she had
Pyloric Stenosis.
He said that it's when the muscle in the stomach,
The Pyloris Spinchter,
stays contracted and causes the child to not keep anything down,
to be in a lot of pain,
and throw up a lot.
He sent us to primary childrens so she could have an ultrasound.
I was so relieved.
I felt like we had finally figured out what was wrong with my poor baby.
I felt like we had finally figured out how to make her feel better.
To Fix this problem means surgery.
That would've been hard,
but if it meant Kalista feeling better,
then that's what would have to be done.
When we got there,
they did the ultrasound and
everything was normal.
It wasn't Pyloric Stenosis.
The only good thing about this was that she wasn't going to need surgery.
But that was it.
We still didn't know what it was.
Kali was STILL screaming at this point.
she was still so upset.
SO,
They sent us to the ER.
2 Hours and $170 later,
they concluded that she is just Colicky and her Acid Reflux is really bad.
I don't like that result.
You know why?
Because there is NOTHING we can do to fix it.
Kali just has to sit there and be in pain and there is nothing I can do to get rid of it.
She finally calmed down by around 2:30.
and fell asleep for a while.
When she woke up from that nap...
she was all of the sudden happy again!
Honestly,
the worst thing ever is seeing your child in pain and knowing there is nothing you can do to make them feel better.
We were given Medicine for the reflux,
but it doesn't seem to help.
I've had a few friends offer some tips,
so I'm going to try those and hope they work.
I'm okay not getting sleep.
I planned on that because obviously that comes with having a baby.
I don't care about that.
But I do care about the way she feels.
and she has obviously been in pain!
I bought some Enfamil that was made specifically for spit up.
I gave her some right before we put her to bed,
and kept her sitting up and forward for about 15 minutes...
and this was the result...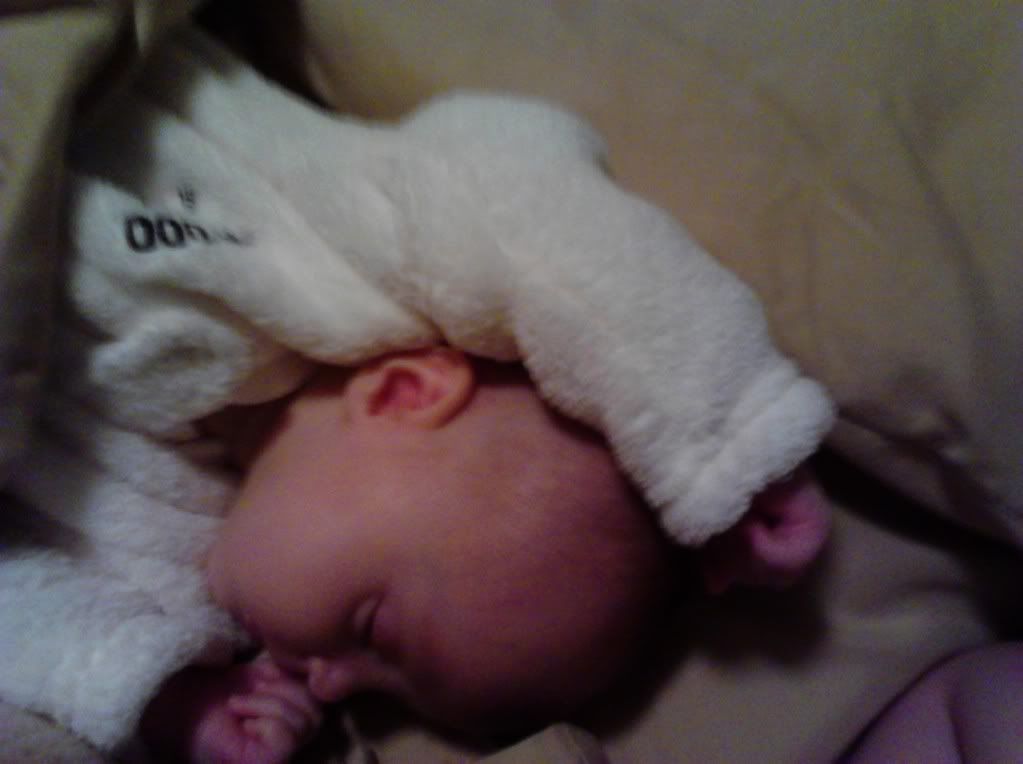 She slept for 7 hours.
SEVEN!
That is the longest she has slept since she's been born.
I was SO glad that we found something that helped get her to sleep...
at night.
(at least it's helped the last two nights)
I am still breastfeeding and I only give her formula at night.
I do NOT want to stop breastfeeding.
I really don't.
So we have been trying some other ways of calming her down during the day.
So far,
We've found two things.
Her Car seat,
as long as she is moving in it.
Like being in the car. That usually helps.
Or,
This little contraption...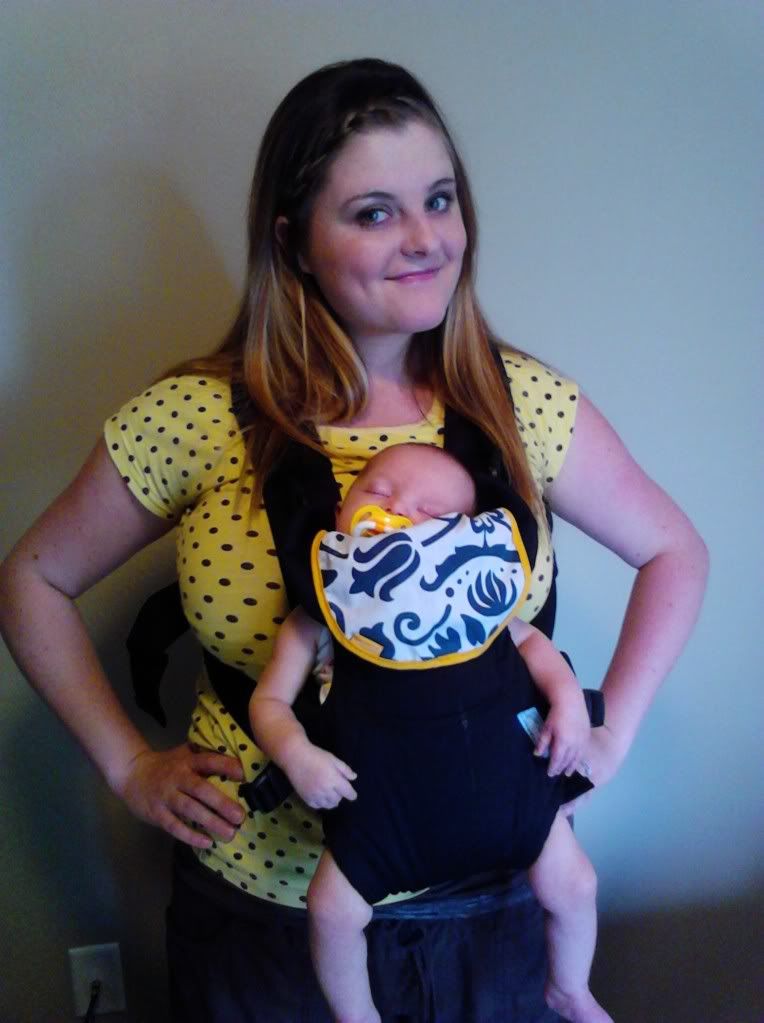 This thing puts her to sleep in five minutes.
Which is understandable.
She's upright so the acid isn't as bad.
I want my poor baby to start feeling better!!