Although it's SO crazy,
Tyson and I celebrated our 1st Anniversary this weekend!
I can't believe it's been a year,
and that we have a baby!
ha It's so weird.
It was such a great weekend.
we had so much fun and everything was perfect <3
On Friday,
after Tyson got off work,
we went to dinner.
He made reservations at
The Roof
a couple weeks ago.
It was SO good! That place has the best food EVER!
Especially their dessert.
and the view,
was INCREDIBLE.
I swear we got the best Table there.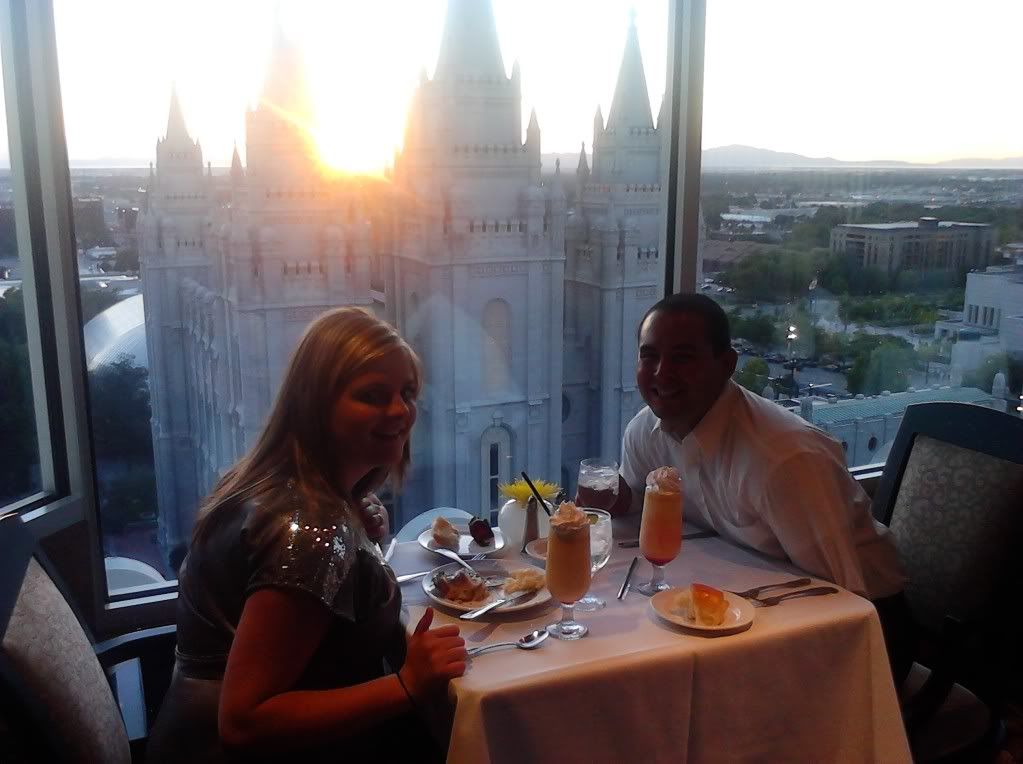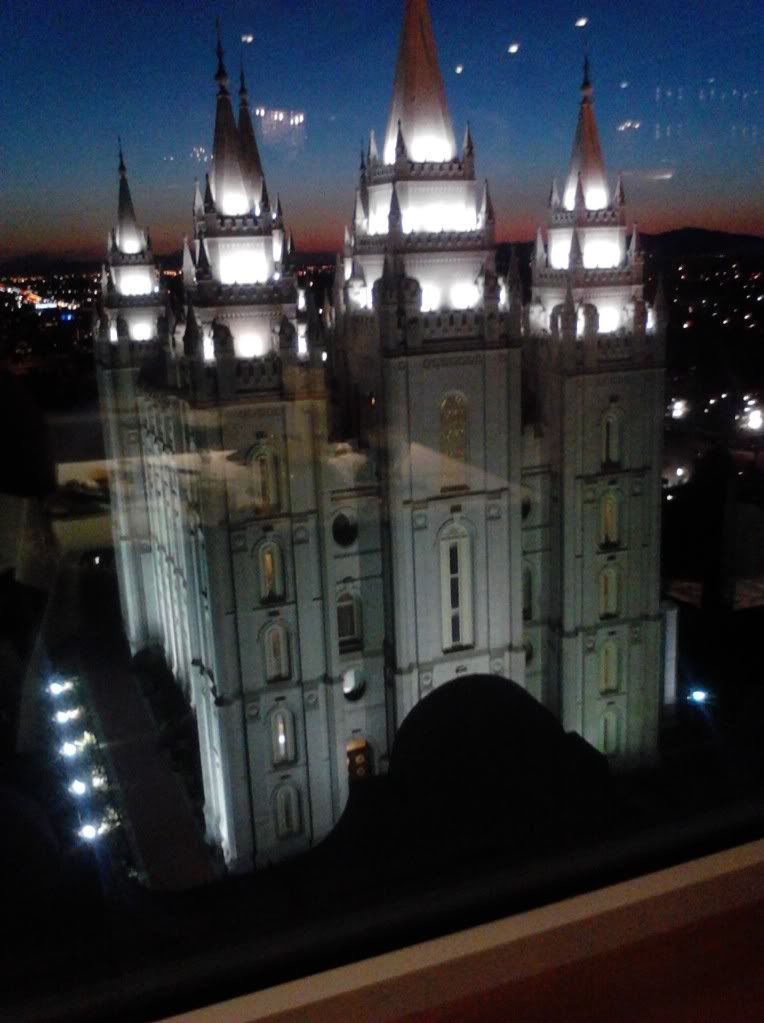 We didn't know how much the place was when we went.
We figured it would be expensive,
But it was our Anniversary so Tyson said we couldn't worry about it.
Well,
it was about $15 more a person than we anticipated,
but it was worth it because it was SOO perfect and the food was SOO good!
After dinner,
we walked around Temple Square for a little bit and just talked.
I don't think the night could have gone any better.
I loved it and the weather was perfect.
It was so crazy to think that a year earlier,
we were married in that temple.
How lucky are we to be married in such a beautiful building??
We just walked around the grounds reminiscing about the pictures and things we did a year ago :)
We dropped Kali off at my parents house before we left and she was staying there until Saturday night, so we were able to go home and sleep through the ENTIRE night that night.
I don't remember sleeping so soundly in my entire life.
haha.
I actually slept through the night and I'm pretty sure I slept about 10 hours!
WOAHH.
We woke up at about 9:30.
Our plans were to go to Lagoon that day,
but we didn't want to rush.
We decided we were just going to enjoy our time and go when we were ready.
I didn't want to feel rushed.
I ALWAYS feel rushed.
I just wanted to be relaxed :)
So we laid in bed for a while and talked and then I gave Tyson his present.
I bought him a bunch of underwear because it's what he asked for. haha and then I also gave him a bluetooth.
He bought one a few months ago and he was IN LOVE with that thing.
He used it for exactly a day and while he was at work,
he went to the bathroom and took it off and then accidentally left it there and it was gone when he went back.
Needless to say,
he was super disappointed about it.
So I suprised him with a new one. He loves this one even more (thank goodness! :D)
After I gave him his,
he got up and came back with a white envelope.
When he gave it to me,
I saw that it was from massage envy.
It was for an hour and a half massage!
oh man I was so excited!
I swear he was psychic or something.
I'm not even kidding when I say that two days earlier,
I was thinking so badly that I needed a massage.
My back has been killing me!
I am so excited to use that thing I can hardly wait!
About 10 minutes after that,
we finally decided to get up and make breakfast.
So we both made it and that was so fun too!
We've never cooked together before.
I liked it :)
I made pancakes.
Regular for me, Chocolate chip for him.
and he made
Eggs, sausage and Hashbrowns.
All topped off with orange juice.
After cleaning up breakfast,
we got ready to go to lagoon and headed out.
We met Stefanie and her husband there and were at lagoon until about 8.
Tyson and I left for dinner and decided that we were just going to rent a movie and go home.
Stefanie and her husband had decided to leave right before that so we just decided we were tired and wanted to go home!
On the way,
we called my mom to pick up Kali and she was at my cousins wedding so we stopped there first :)

Although it was fun to have a break,
I missed her SO much and couldn't wait to see my baby.

But we wanted to watch a movie when we got home,
SO
Luckily she went right to bed when we got home so we were able to watch the movie.
It was the best anniversary ever!
Saturday was our actual Anniversary :)
I love Tyson and I'm so grateful to be married to him.
This first year has definitely been an adventure!
But I wouldn't want to go through the ups, downs, happys, and sads with anyone else.
Our year old Wedding cake.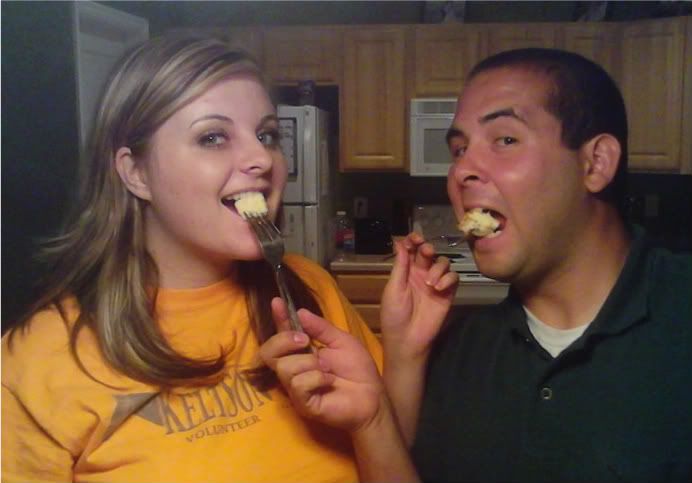 We spit it out after this picture.
Wedding cake is so not good a year later...I don't recommend it.
ha.
I love you SOO much Tyson!!<3