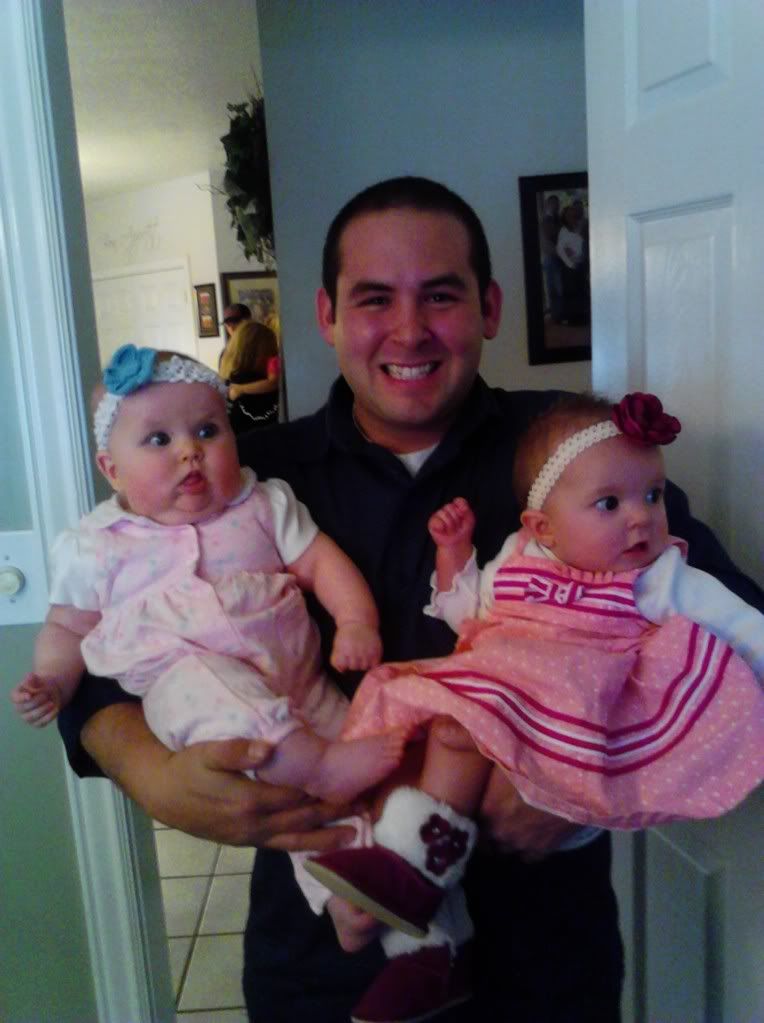 Kali with her cousin Jada. Kali less than a month older than Jada.
They're going to be great friends!

Thanksgiving this year was so fun,
but SO busy!!

We woke up at 8:00 am.
and if you know us at all,
when Tyson has a day off...
we sleep until like...10:30.

I know.
don't judge.
haha
Anyway,
We went to Walmart because Tyson wanted to find out what time everyone could start lining up for PS3's. He wants one so bad. ha He keeps saying it's because of the blue ray, but we both know he is a gaming nerd.
So,
they said 5:00 pm.
Then we stopped at my parents house so I could shower my Oma,
then left from there right to Tyson's grandmas house for THANKSGIVING!
It was delish, but we couldn't stay there for as long as we wanted to.
(let me just say that I knew Tyson was the one I was supposed to marry when, at family get togethers, they play board games. Yes. I'm obsessed! haha)
We had to leave at 2:30,
because my Aunt was having thanksgiving at her house as well.
We decided after this that we are going to switch families every year.
We're not doing both families every year anymore because we don't really actually get to spend time with either of them because we're in a rush to go to the next place.
Ridiculous.
Anyway,
we were there for about the same amount of time we were at his grandmas,
because at 4:15,
we had to leave because Tyson wanted to go stand in line at walmart.
of course my brother wanted to come with us, because he's just as big of a nerd as my husband.
They were so worried that we wouldn't get a PS3 because there were only 50...
we got there at 4:58 (which stressed him the heck out...)
and when we got in line...
It was apparant, we weren't late.
We were the first in line.
People didn't start showing up until around 7.
I gotta say.
Sitting in line for 5 hours was just...lovely.
hahaha
I found some books throughout the store to read to Kali,
so she would stay entertained.
She's a book worm like her mama.
After a few hours,
Kali had enough and my mom ended up taking her for the rest of the time.
Long story short,
Tyson got his PS3 and according to him,
his life is now complete.
He said "my wife, daughter and a PS3 is all I need"
I'll remember that next year ;)
haha
Happy Thanksgiving Everyone!
I'm grateful for my life, family and everything.
seriously.
We couldn't be more blessed.