I haven't been able to update every time I have a doctor appointment since we don't have a computer anymore.
However,
this week my mom dad and younger siblings are in Disneyland and Tyson, Kali and Me were the lucky ones to be asked to house sit/take care of the dog while they're gone.
One of the perks of staying at my parents house for a whole week,
is that I have a working computer at my fingertips! haha
So I get to update about my 31 week appointment today.
I'm exactly 31 weeks TODAY and my appointment was today.
Everything is going well.
I'm measuring right on at 31 weeks.
Hayleigh is already behaving and is head down.
She's perfect!
I left my appointment super happy for two specific reasons.
1. I learned that I've gained a total of 6 pounds so far this entire pregnancy. yay! so happy that I'm doing better this time.
and
2. I'm now to the point where I have an appointment every two weeks...which means I'm already almost done. SO CRAZY! By this point last time AND the time before, I was SO ready to be done and though I might die before that baby came! haha
This time, I'm not to the point where i'm just ready to be done. I'm feeling more like I'm in a little bit of a panic knowing that in 9 weeks I'll have 2 kids!
I'm taking care of my adorable nephew, Justin two times a week now which is so perfect.
That way, twice a week, I'll get a taste of how it's going to be with two kids.
Kali will also be able to slowly be introduced to having another baby around and not having all of the attention on her all of the time.
She's doing WAY better than I thought.
In fact, I think she enjoys the fact that I can't stop her from 'exploring' when I'm taking care of or feeding him. She's such a little stinker! haha
But she's going to be great big sister.
She's really not as jealous as I expected her to be.
In fact, she's such a little mommy.
She is SO concerned when he cries and does everything she can to get him to stop crying.
Here's a picture of her trying to help him stop crying while I warm up his bottle.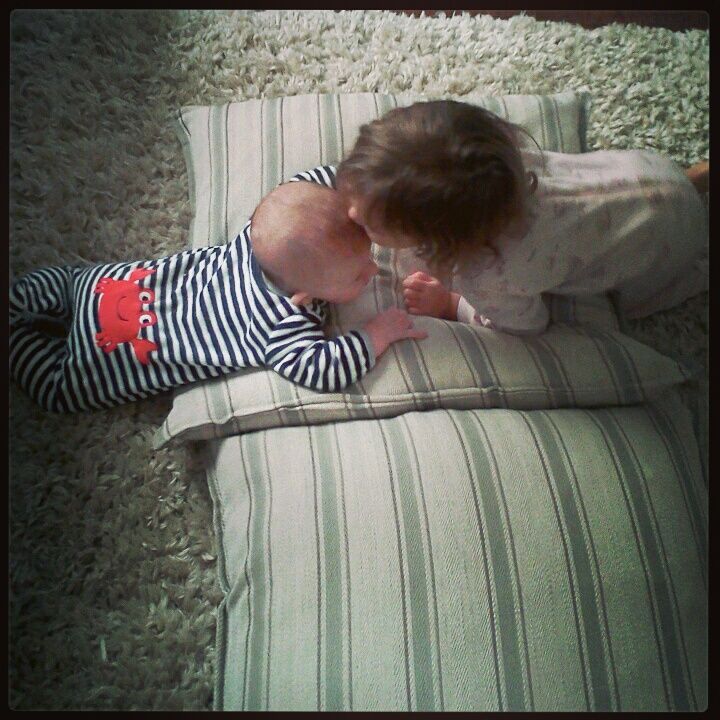 It melts my heart.
a few hours after taking this picture,
I was doing her hair and he started crying again. I was in the middle of a braid so I had to let him cry for a second while I finished it. Kali looked over at him and said "Jussin, is okay" (she was telling him it's okay) in her baby voice.
It was the sweetest thing.
Then when I started making him another bottle,
I put him in his car seat because I was at my parents house and it was the only place I could lay him down. I strapped him in because I knew better than not doing it with Kali around. haha
and while I was getting it ready,
Kali started rocking the car seat and when it didn't help,
she bent down and started trying to take him out!
She's such a sweet girl and I'm so proud of her for being such a mommy to him!
It makes me feel a little less worried about how she's going to respond to Hayleigh.