First off,
Happy New Year!!
Last year was great,
the best part being the birth of our Beautiful Kali.
Now to making it another great year to remember!
Christmas was so fun!
definitely one of the best Christmases ever!
It all started with Kali's first Visit to Santa!
She absolutely LOVED him.
I was so happy to see her enjoy him so much.
When we first put her on his lap,
she just stared at him...
then she looked over at us and began smiling really big!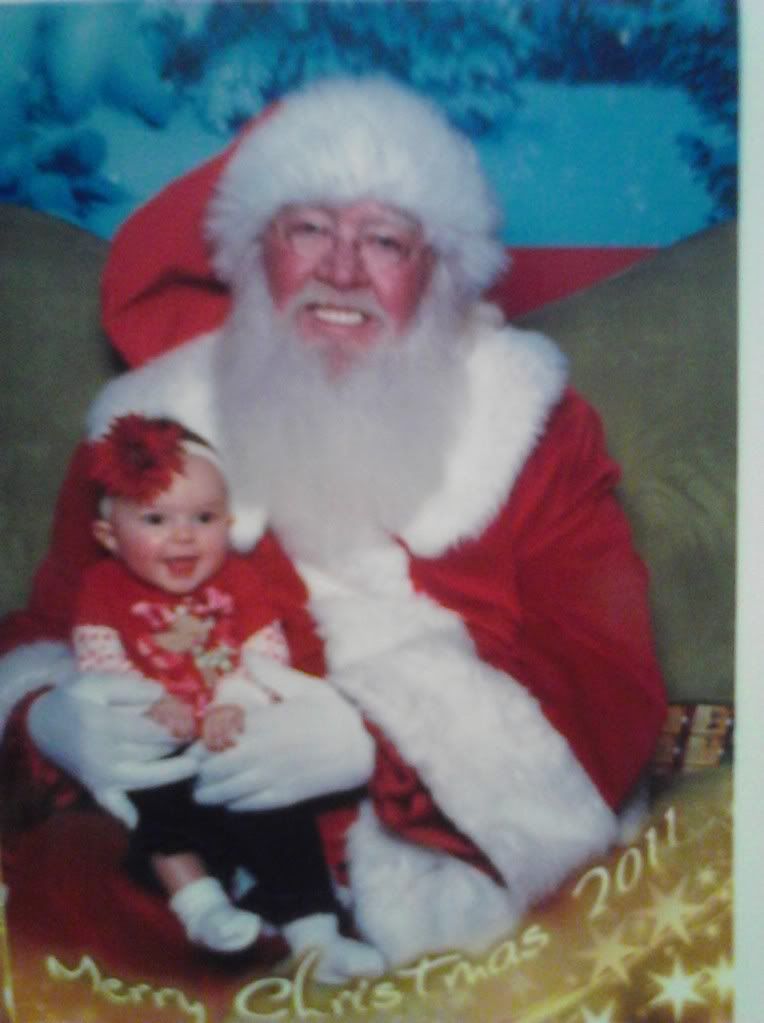 Complete with holding his fingers and all ;)
I sure love her.
Next was the Pixton Christmas party.
(Tyson's moms family)
Santa was there as well,
but I don't have a picture :(
I do Have Kali in her cute santa outfit though :)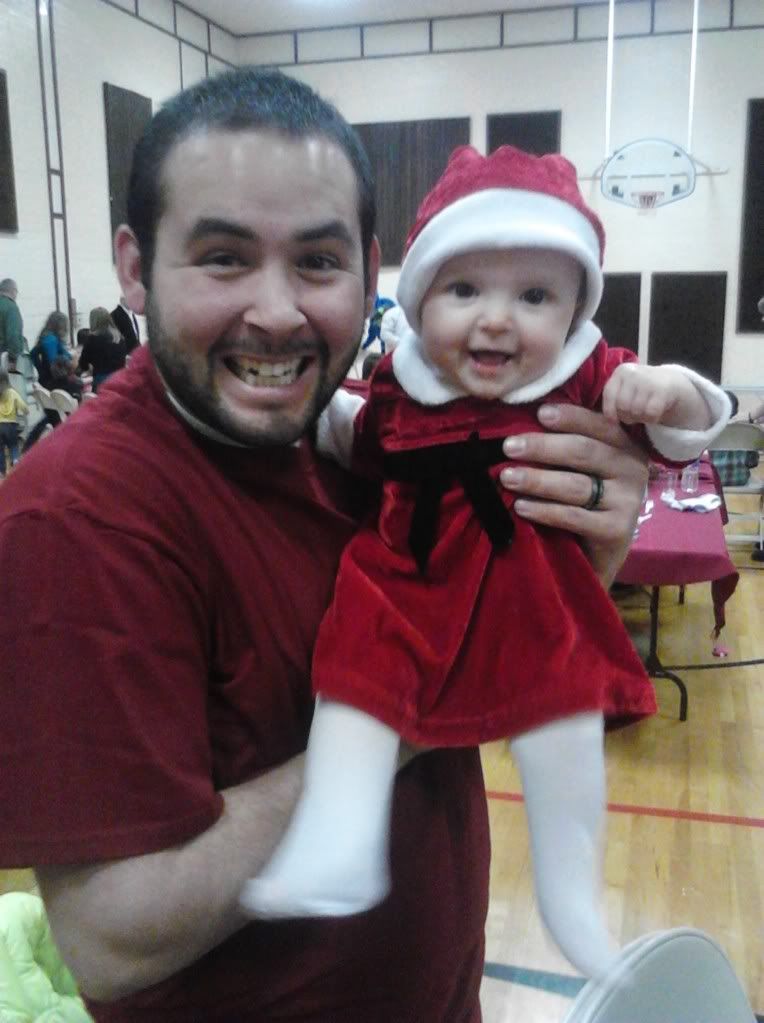 The month went on with,
My sister coming home for the Holidays from Texas!
We got together right after she got here,
and made chocolate covered Cake bites!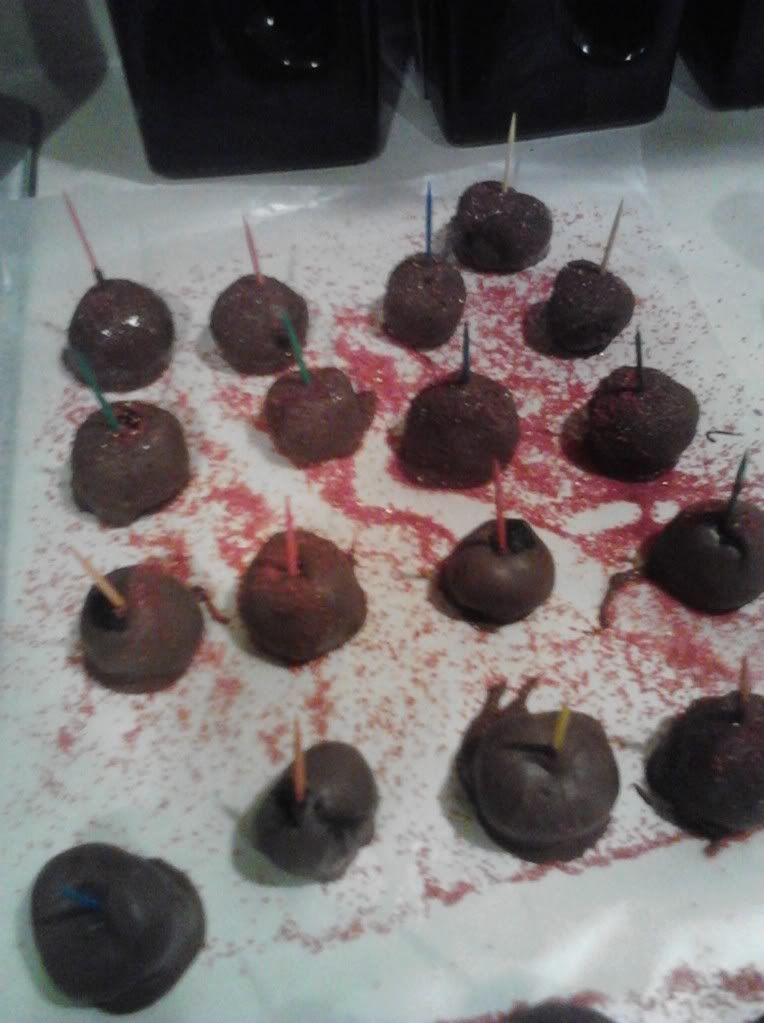 mmm...
so Delish.

Then on to the rest of the partys...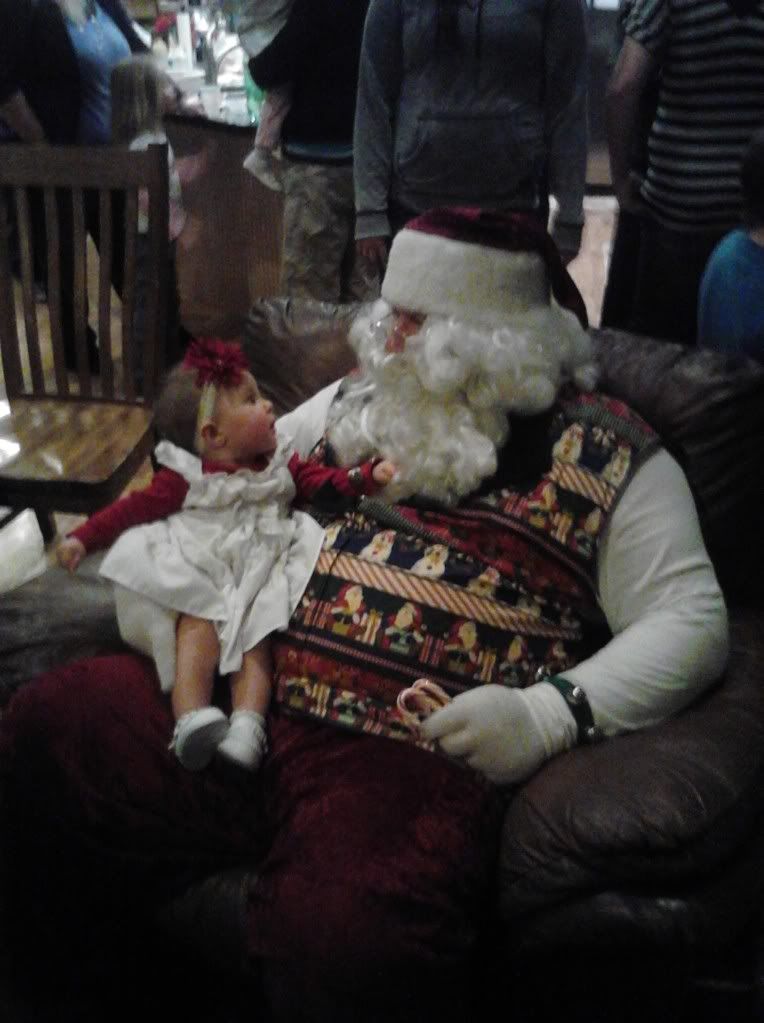 With Santa at the DeMie Christmas Eve party.
/\ This was on Christmas Eve Eve.
On Christmas Eve,
we ended up at the Car Dealership...
and Tyson bought me my Christmas present!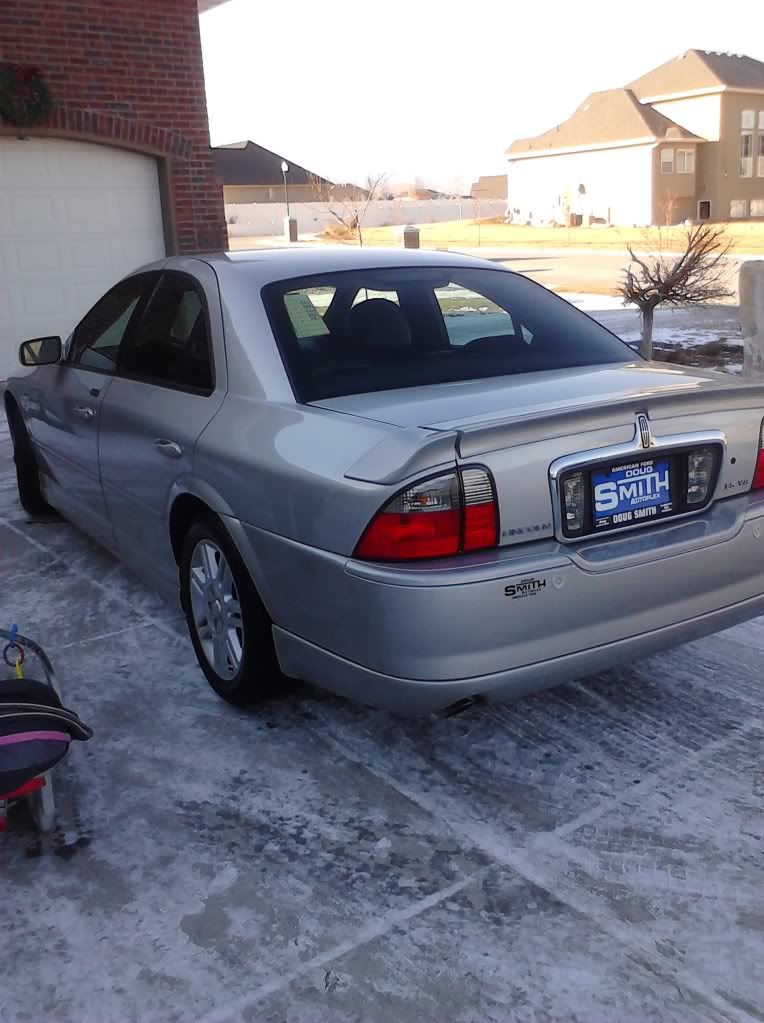 You have no idea how much I love this car!
Christmas was so much fun with Kali!
We had to wake her up early,
because we were going to my parents house for breakfast.
Here's how much Santa spoiled this child...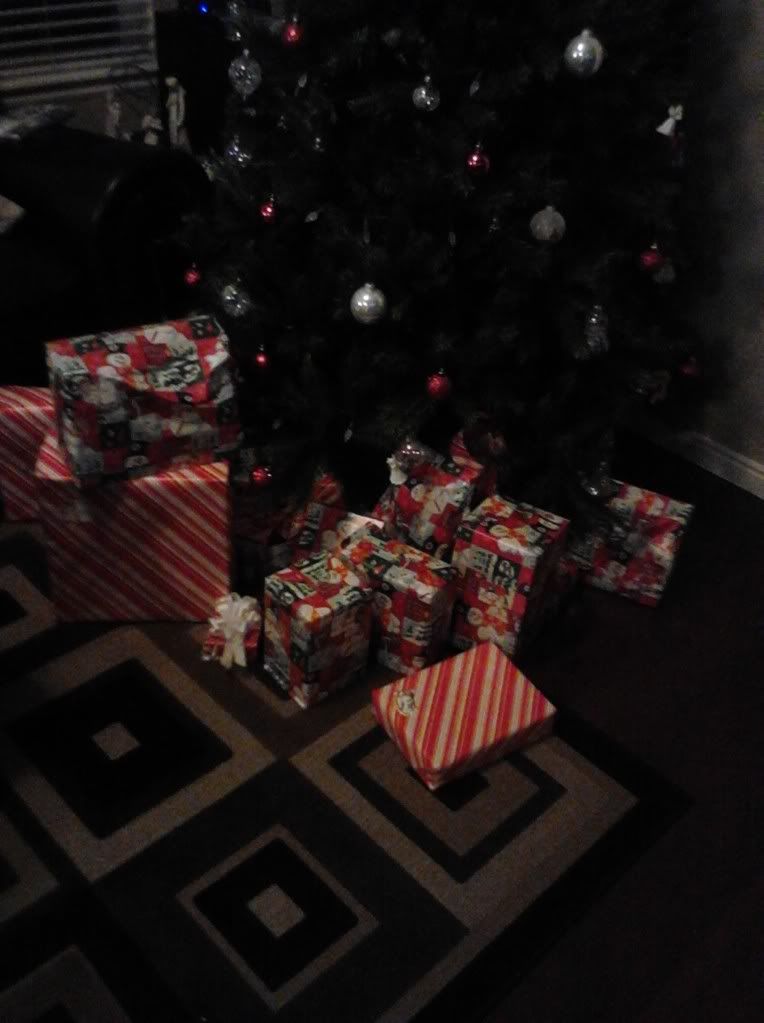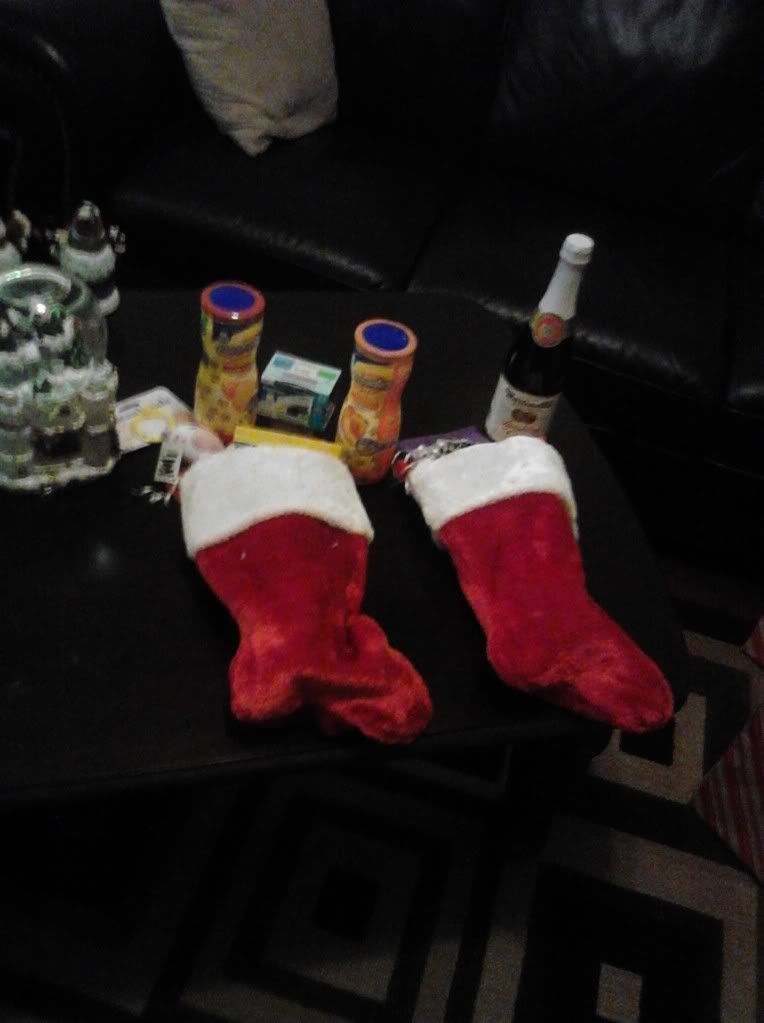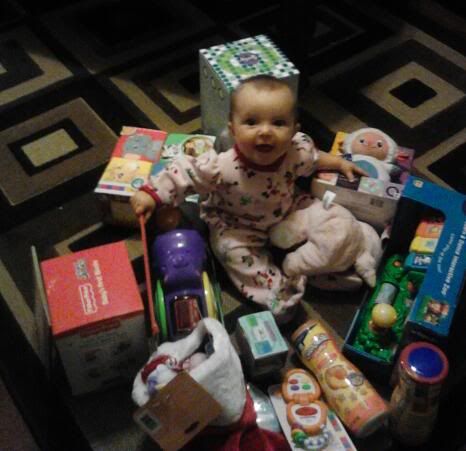 She had so much fun!
The presents didn't stop there though...
We went to my parents house,
and she was overwhelmed with gifts there as well.
This was my favorite of the gifts they gave her.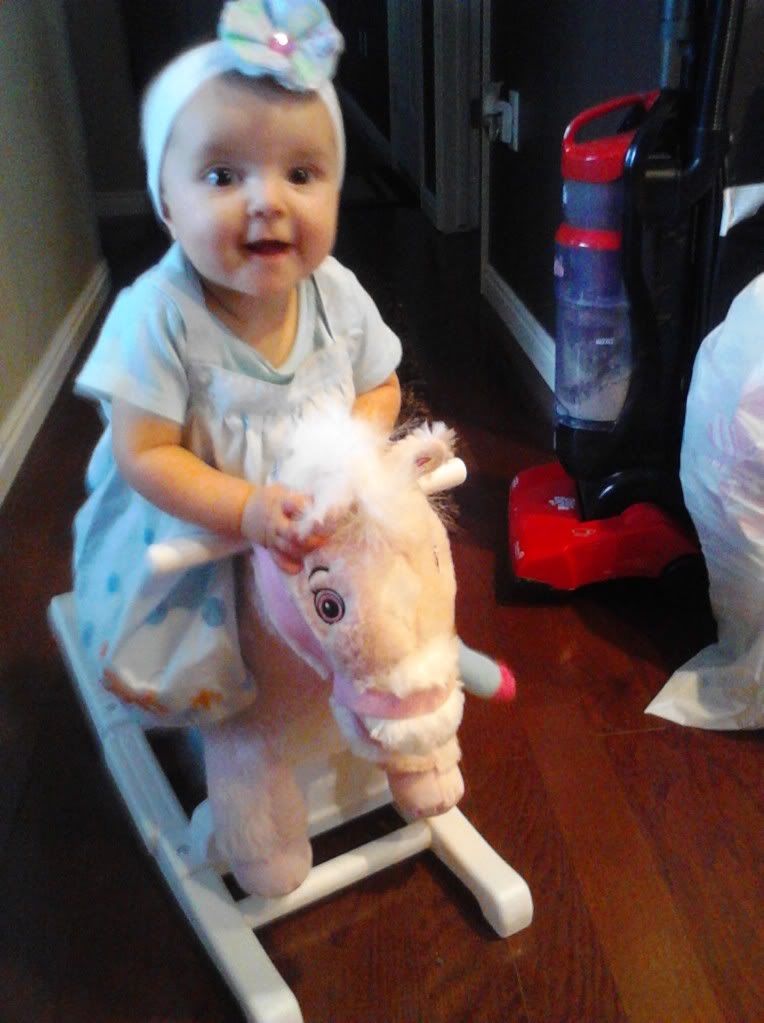 This horse sings and prances.
It's so cute.
My little sister also gave her a really cute santa dressed monkey.
That was my other favorite,
but I forgot to take a picture :S
Dustin, Andrea and Avery came over the day after Christmas,
and gave Kali 4 of the Original Christmas Classic movies.

I can't WAIT until she gets into movies more,
because I LOVED those growing up.
They also gave us a gift card to Zupas, which we used that day.
haha
Anyway.
We had an INCREDIBLE Christmas!
I can't end without saying that I'm so grateful for the birth of Our Savior.
He's the real meaning of Christmas and I really felt the Spirit this year.
It was a wonderful month.
***
We just kept it low key for new years eve.
We spent the Evening with my parents with Pizza, Games and Movies.
Tyson and I made a New years Resolution this year that we started immediately.
We want to lose weight.
We're doing Isogenix.
It's SO tough,
but as long as I keep my eye on the prize,
I think I'll make it.
Tyson is doing way better than me :)
I failed miserabely with the one I was doing on my
other blog
.
But I WILL do better with this one :)
That post to come...